ABB Softstarters Type PSS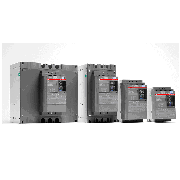 ABB Softstarters Type PSS.
General information The PSS Softstarter line brings a wide array of benefits for smaller motors in a flexible, compact form.
The PSS "Flexible" Softstarter line PSS18/30 to PSS300/515 softstarters provide a flexible solution for motor starting. Rated motor currents are covered from 18A to 300A when connected in line like a traditional full voltage starter. These units can also be wired inside the motor-delta, like a wye-delta starter, covering motors up to 515A. This flexibility makes it easier than ever before to replace wye-delta starters.
The total solid state solution – with no moving contacts in the power circuit – is an attractive solution for applications with many starts per hour. Adjustable parameters include acceleration time, initial voltage and optional current limit for starting and deceleration time for stopping.
Class 10 overload protection is standard for Type PSS enclosed softstarters.
Features
Same unit can be used for both In Line and Inside Delta connection
Start ramp, Stop ramp and Initial voltage included
Current limit function as option
Solid state electrical circuit
Designed for continuous operation without by-pass
15% overcurrent capability during continuous run (10% for PSS300/515)
Accessories for connection and installation available