FLENDER SIG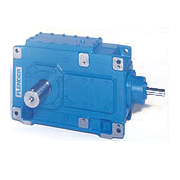 With this completely new FLENDER SIG standard gear unit series, Siemens provides optimal universal solutions for the drive tasks of tomorrow.
Whether materials handling, the building materials industry, the steel industry, metallurgical engineering, or process technology – the classical industrial branches and the works for the production of raw materials require even more standardization, flexibility, and performance of their applications.
The new gear units of the FLENDER SIG series are extremely compact and provide even higher torques for the same size. In addition, the torque grading was harmonized with the result that the customer will always find the right gear unit.
The new mounting options and the unique options of add-on pieces and coolers offer the customer considerably more flexibility when planning and designing his plant. Highest quality and interdisciplinary knowledge of the drive train as well as improved rolling bearing life and, if requested, dustproof TACONITE seals ensure continuous reliable operation and low life cycle costs.
The new industrial gear unit series setting high standards will successively replace the standard FLENDER gear unit series which was tried and tested a hundred thousand times.
Today, just one year after launching them onto the market, Siemens is offering all seven types of FLENDER SIG for horizontal mounting. The Siemens modular gear unit kit enables a huge range of possible variants to be constructed – which means that FLENDER SIG is available to you in many sizes for base or shaft mounting right now.
Advantages
Even higher torques for the same size
Even higher flexibility owing to additional mounting position
Even higher availability of the plant owing to improved rolling bearing life
Even closer to the torque desired by the customer owing to harmonized torque grading
Great diversity owing to 5 types with solid shaft or different hollow shaft variants
Optionally available with dustproof TACONITE seals
If required, internal cooling or standardized fan
High availability worldwide
Attractive price-performance ratio
Higher operational reliability with increased power capacity
Accessories and options for servo gear units and servo gearmotors
Motor adapter
The EPH motor adaptor for planetary servo gear units and EBH motor adaptor for helical-bevel gear units can be used to connect all commercial servomotors in a simple and time-efficient manner to servo gear units from SEW-EURODRIVE.
Reduced backlash
Optional for planetary servo gear units and helical-bevel servo gear units. The circumferential backlash of these gear units is considerably less than that of the standard versions so that positioning tasks can be solved with great precision. The circumferential backlash is specified in angular minutes [ '] in the technical data.
Minimized circumferential backlash
Optional for planetary servo gear units. The circumferential backlash of these gear units is reduced even further than that of the reduced backlash version and therefore allows for even greater precision when performing positioning tasks.