General Machinery Drives ACS350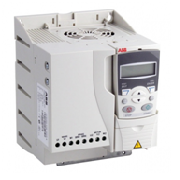 The ABB ACS350 machinery drive is designed specifically for the OEM machine-building sector. In this sector, the manufacturing time per unit is critical. The ACS350 is designed to be the fastest drive in terms of installation, setting parameters and commissioning. The ACS350 has been designed to be as user-friendly as possible, yet provide high application flexibility. The ACS350 offers diverse functionality to cater to the most demanding needs.
ABB general machinery drives are designed to meet the requirements of an extensive range of machinery applications. The drive is ideal for food and beverage, material handling, textile, printing, rubber and plastics, and woodworking applications.
Features
FlashDrop
Sensorless Vector Motor Control
Sequence programming
Impressive software and compact hardware
Optimized interfaces for users and machines
Unified height and depth
Convenient installation
Coated boards as standard
Built-in brake chopper as standard
Features
Benefits
Notes

FlashDrop

Faster and easier drive set up and commissioning.

New fast, safe and trouble free method to download parameters available without electricity – Patented.

Sequence programming

Logic programming included as standard.
PLC-like functions standard

Application specific 8-state programming with comprehensive triggering conditions.

Software

State of the art technology and performance with exceptional flexibility.

Sensorless vector and flux vector control with innovative features.

User interfaces

Cost efficient approach offering different control panels according to functionality need.

Blank cover
Basic panel with numerical display
Advanced control panel with clear alphanumerical dynamic menus, real time clock and 14 languages.

Cabinet compatibility

Optimum installation layout and efficient cabinet space usage.

Screw, DIN-rail, sideways and side-by-side mounting. Unified height and depth.

Fieldbuses

High speed communication with compact and robust fieldbus design.

Enclosed plug-in type of fieldbus adapter.

Built-in EMC filter

No extra space, parts, time or cost required.

2nd environment filter complying with IEC 61800-3 as standard.

Coated boards

Longer lifetime in hostile environments. Reduced service.

Protections against moisture and hostile particles as standard.