Helical-bevel Gearmotor K Series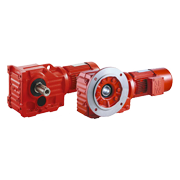 Energy-efficient and low-maintenance.
K series (three-stage).
Helical-bevel gear units from SEW-EURODRIVE provide a high degree of efficiency of over 96% in both torque directions and at all input speeds. With performance designed to last – high-endurance gearing enables high-torque, wear-free operation. With our remarkably efficient helical-bevel gearmotors, you have energy-saving angular gear drives at your fingertips. As they also have a long maintenance-free service life, they can be used in every application with AC asynchronous motors, asynchronous and synchronous servomotors. A reduced backlash version is available for precise positioning tasks.
Features
High torque density
Wear-free
Long service life
> 96% gear unit efficiency
Multi-stage gear unit for low output speeds
Reduced backlash option in all sizes
Available versions
Foot-mounted or flange-mounted
B5 or B14 Flange-mounted
Solid or hollow shaft
Hollow shaft with keyed connection, shrink disc, splined hollow shaft or TorqLOC®
Technical data
Helical gear unit versions
| | | |
| --- | --- | --- |
| Gear unit reduction ratio | [i] | 3.98 to 197.37 |
| Multi-stage gear unit reduction ratio | [i] | 94 to 32625 |
| Output torque | [Nm] ([in-lb]) | 125 to 50000 (1110 to 442500) (also in reduced backlash version) |
| Motor power range | [kW] ([hp]) | 0.12 to 200 (0.16 to 268) |
Helical-bevel gear unit versions
Version
Size:
37
47
57
67
77
87
K..
Foot-mounted
K37
K47
K57
K67
K77
K87
KA..B
Foot-mounted / Hollow shaft
KA37B
KA47B
KA57B
KA67B
KA77B
KA87B
KV..B
Foot-mounted / Hollow shaft / Splined hollow shaft
KV37B
KV47B
KV57B
KV67B
KV77B
KV87B
KH..B
Foot-mounted / Hollow shaft / Shrink disc
KH37B
KH47B
KH57B
KH67B
KH77B
KH87B
KF..
B5 flange-mounted
KF37
KF47
KF57
KF67
KF77
KF87
KAF..
B5 flange-mounted / Hollow shaft /
KAF37
KAF47
KAF57
KAF67
KAF77
KAF87
KVF..
B5 flange-mounted/Hollow shaft / Splined hollow shaft
KVF37
KVF47
KVF57
KVF67
KVF77
KVF87
KHF..
B5 flange-mounted/Hollow shaft / Shrink disc
KHF37
KHF47
KHF57
KHF67
KHF77
KHF87
KA..
Hollow shaft
KA37
KA47
KA57
KA67
KA77
KA87
KV..
Hollow shaft / шSplined hollow shaft
KV37
KV47
KV57
KV67
KV77
KV87
KH..
Hollow shaft / Shrink disc
KH37
KH47
KH57
KH67
KH77
KH87
KT..
Hollow shaft / TorqLOC®
KT37
KT47
KT57
KT67
KT77
KT87
KAZ..
Фланцевое Version B14 /Hollow shaft /
KAZ37
KAZ47
KAZ57
KAZ67
KAZ77
KAZ87
KVZ..
B14 Flange-mounted / Hollow shaft / Splined hollow shaft/
KVZ37
KVZ47
KVZ57
KVZ67
KVZ77
KVZ87
KHZ..
B14 Flange-mounted / Hollow shaft / Shrink disc/
KHZ37
KHZ47
KHZ57
KHZ67
KHZ77
KHZ87
Version
Size:
97
107
127
157
167
187
K..
Foot-mounted
K97
K107
K127
K157
K167
K187
KA..B
Foot-mounted / Hollow shaft
KA97B
KA107B
KA127B
KA157B
KA167B
KA187B
KV..B
Foot-mounted / Hollow shaft / Splined hollow shaft
KV97B
KV107B
KV127B
KV157B
KV167B
KV187B
KH..B
Foot-mounted / Hollow shaft / Shrink disc
KH97B
KH107B
KH127B
KH157B
KH167B
KH187B
KF..
B5 flange-mounted
KF97
KF107
KF127
KF157
KF167
KF187
KAF..
B5 flange-mounted / Hollow shaft /
KAF97
KAF107
KAF127
KAF157
KAF167
KAF187
KVF..
B5 flange-mountedHollow shaft / Splined hollow shaft
KVF97
KVF107
KVF127
KVF157
KVF167
KVF187
KHF..
B14 Flange-mounted / Hollow shaft / Shrink disc/td>
KHF97
KHF107
KHF127
KHF157
KHF167
KHF187
KA..
Hollow shaft
KA97
KA107
KA127
KA157
KA167
KA187
KV..
Hollow shaft / шпунтованный профиль
KV97
KV107
KV127
KV157
KV167
KV187
KH..
Hollow shaft / Shrink disc
KH97
KH107
KH127
KH157
KH167
KH187
KT..
Hollow shaft / TorqLOC®
KT97
KT107
KT127
KT157
KT167
KT187
KAZ..
Фланцевое Version B14 /Hollow shaft /
KAZ97
KAZ107
KAZ127
KAZ157
KAZ167
KAZ187
KVZ..
B14 Flange-mounted / Hollow shaft / Splined hollow shaft/
KVZ97
KVZ107
KVZ127
KVZ157
KVZ167
KVZ187
KHZ..
Фланцевое Version B14/ Hollow shaft / Shrink disc/
KHZ97
KHZ107
KHZ127
KHZ157
KHZ167
KHZ187