Lenze AC Tech SMVector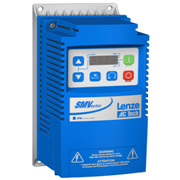 Despite their compact dimensions, Lenze TML and TMD frequency inverters truly are multi-talented and ready to take on any challenge. Operation couldn't be easier. Commissioning can be completed using just the three face mounted buttons. The EPM parameterisation procedure really is ahead of its time. The pluggable memory chip on the front panel provides safe storage for all drive data.
The SMVector NEMA 1 (IP31) is the most common and cost effective drive enclosure for a wide range of applications including packaging, material handling / conveying, positive displacement pumping, and HVAC systems.
The SMVector Series can be used with 3-phase AC induction motors and is available in NEMA 1 (IP31) , NEMA 4X (IP65) ¹ and NEMA 4X (IP65) ¹ with an integral disconnect switch. Filtered input versions of the SMV are available in NEMA 4X (IP65) models for compliance with the CE EMC directive.
Programmable digital and analog I/O allow the drive to be configured for many application specific tasks such as multiple preset speeds, electronic braking and motor jogging to name a few. Like all Lenze – AC Tech sub-micro drives, the SMVector uses EPM memory technology for fast and efficient programming.
Technical documentation for the SMVector Series Drive, and all AC Tech brand drives, is available in our Technical Library.
Power ranges
120/240V – 1Phase Input, up to 1.5 HP (1.1 kW)
200/240V – 1 or 3 Phase Input, up to 3.0 HP (2.2 kW)
200/240V – 3 Phase Input, up to 20 HP (15 kW)
400/480V – 3 Phase Input, up to 60 HP (45 kW)
480/600V – 3 Phase Input, up to 60 HP (45 kW)
¹ type 4X (IP65) enclosures are available for either indoor use, suitable for most indoor industrial environments; or indoor/outdoor use that offers UV protection and has higher impact strength at low temperatures.