Parallel Shaft Helical Gearmotor F series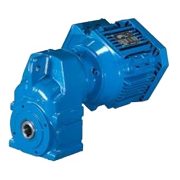 Drives for every industry.
F series (two-stage and three-stage).
Our extra-slim parallel shaft helical gearmotors are the perfect solution when space is limited. The many different sizes and designs ensure that the gearmotors can be used in a wide variety of applications even under the most unfavorable conditions. SEW-EURODRIVE parallel shaft helical gearmotors are typically used in conveyor and materials processing applications. You can choose from foot-mounted, flange-mounted or shaft-mounted options. Reduced backlash parallel shaft helical gear units are also available on request for precise positioning tasks. Available versions.
Features
Foot-mounted or flange-mounted
B5 or B14 Flange-mounted
Solid or hollow shaft
Hollow shaft with keyed connection, shrink disc, splined hollow shaft or TorqLOC®
Advantages
High torque density
High permitted overhung loads
Multi-stage gear unit for low output speeds
F37 … F157 Reduced backlash option
Technical data
Helical gear unit versions
| | | |
| --- | --- | --- |
| Gear unit reduction ratio | [i] | 3.77 to 281.71 |
| Multi-stage gear unit reduction ratio | [i] | 87 to 31434 |
| Output torque | [Nm] ([in-lb]) | 87 to 18000 (770 to 159300) (also in reduced backlash version) |
| Motor power range | [kW] ([hp]) | 0.12 to 200 (0.16 to 268) |
Parallel shaft helical gear unit versions
Version
Size:
27
37
47
57
67
77
F..
Foot-mounted
F27
F37
F47
F57
F67
F77
FA..B
Foot-mounted / Hollow shaft
FA27B
FA37B
FA47B
FA57B
FA67B
FA77B
FV..B
Foot-mounted / Hollow shaft / Splined hollow shaft
FV27B
FV37B
FV47B
FV57B
FV67B
FV77B
FH..B
Foot-mounted / Hollow shaft / Shrink disc
FH27B
FH37B
FH47B
FH57B
FH67B
FH77B
FF..
B5 flange-mounted
FF27
FF37
FF47
FF57
FF67
FF77
FAF..
B5 flange-mounted / Hollow shaft /
FAF27
FAF37
FAF47
FAF57
FAF67
FAF77
FVF..
B5 Flange-mounted / Hollow shaft / Splined hollow shaft
FVF27
FVF37
FVF47
FVF57
FVF67
FVF77
FHF..
B5 Flange-mounted / Hollow shaft / Shrink disc/td>
FHF27
FHF37
FHF47
FHF57
FHF67
FHF77
FA..
Hollow shaft
FA27
FA37
FA47
FA57
FA67
FA77
FV..
Hollow shaft / Splined hollow shaft
FV27
FV37
FV47
FV57
FV67
FV77
FH..
Hollow shaft / Shrink disc
FH27
FH37
FH47
FH57
FH67
FH77
FT..
Hollow shaft / TorqLOC®
FT27
FT37
FT47
FT57
FT67
FT77
FAZ..
B14 Flange-mounted / Hollow shaft
FAZ27
FAZ37
FAZ47
FAZ57
FAZ67
FAZ77
FVZ..
B14 Flange-mounted / Hollow shaft / Splined hollow shaft
FA27B
FA37B
FVZ47
FVZ57
FVZ67
FVZ77
FHZ..
B14 Flange-mounted / Hollow shaft / Shrink disc/td>
FV27B
FV37B
FHZ47
FHZ57
FHZ67
FHZ77
Version
Size:
87
97
107
127
157
F..
Foot-mounted
F87
F97
F107
F127
F157
FA..B
Foot-mounted / Hollow shaft
FA87B
FA97B
FA107B
FA127B
FA157B
FV..B
Foot-mounted / Hollow shaft / Splined hollow shaft
FV87B
FV97B
FV107B
FV127B
FV157B
FH..B
Foot-mounted / Hollow shaft / Shrink disc
FH87B
FH97B
FH107B
FH127B
FH157B
FF..
B5 flange-mounted
FF87
FF97
FF107
FF127
FF157
FAF..
B5 flange-mounted / Hollow shaft /
FAF87
FAF97
FAF107
FAF127
FAF157
FVF..
B5 flange-mounted /Hollow shaft / Splined hollow shaft
FVF87
FVF97
FVF107
FVF127
FVF157
FHF..
B5 Flange-mounted / Hollow shaft / Shrink disc/td>
FHF87
FHF97
FHF107
FHF127
FHF157
FA..
Hollow shaft
FA87
FA97
FA107
FA127
FA157
FV..
Hollow shaft / Splined hollow shaft
FV87
FV97
FV107
FV127
FV157
FH..
Hollow shaft / Shrink disc
FH87
FH97
FH107
FH127
FH157
FT..
Hollow shaft / TorqLOC®
FT87
FT97
FT107
FT127
FT157
FAZ..
B14 Flange-mounted / Hollow shaft
FAZ87
FAZ97
FAZ107
FAZ127
FAZ157
FVZ..
B14 Flange-mounted / Hollow shaft / Splined hollow shaft
FVZ87
FVZ97
FVZ107
FVZ127
FVZ157
FHZ..
B14 Flange-mounted / Hollow shaft / Shrink disc
FHZ87
FHZ97
FHZ107
FHZ127
FHZ157