Proline Promag 50W, 53W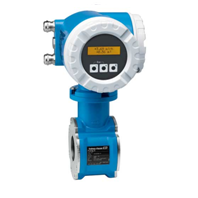 Promag measuring devices offer you cost-effective flow measurement with a high degree of accuracy for a wide range of process conditions.
Measurement principle
An alternating voltage exists between the rod probes in an empty tank. As soon as the conductive liquid in the tank creates a connection between the ground probe rod and, for example, the maximum probe rod, a measurable current flows and the Liquipoint T switches. With level limit detection, the Liquipoint T switches back as soon as the liquid clears the maximum probe. With two-point control, the Liquipoint T does not switch back until the MAX and MIN probe is cleared. Using alternating voltage prevents corrosion of the probe rods and electrolytic destruction of the product. The material used for the tank walls is not important for measurement because the system is designed as a closed potential-free circuit between the probe rods and the electronics. There is absolutely no safety hazard if the probe rods are touched during operation.
Features
Detect multiple level limits with one device
Flexible instrumentation
No moving parts in the tank
No calibration required
Application
Electromagnetic flowmeter for bidirectional measurement of liquids with a minimum conductivity of ≥ 5 μS/cm:
Drinking water
Wastewater
Sewage sludge
Flow measurement up to 110000 m³/h (484315 gal/min)
Fluid temperature up to +80 °C (+176 °F)
Process pressures up to 40 bar (580 psi)
Lengths in accordance with DVGW/ISO
Application-specific lining of the measuring pipe from polyurethane or hard rubber with the following drinking water permissions:
Approvals for hazardous area:
Connection to process control system:
HART
PROFIBUS DP/PA
FOUNDATION Fieldbus
MODBUS RS485
The uniform Proline transmitter concept comprises:
Modular device and operating concept resulting in a higher degree of efficiency
Software options for batching, electrode cleaning and for measuring pulsating flow
High degree of reliability and measuring stability
Uniform operating concept
The tried-and-tested Promag sensors offer:
No pressure loss
Not sensitive to vibrations
Simple installation and commissioning