Servo Gearmotor PSC Series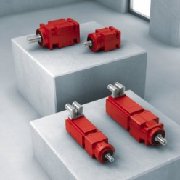 The highest level of precision, torque and overhung load: Low backlash planetary and helical-bevel servo gear units.
PSC series – Planetary servo gear units.
The low backlash PSC planetary servo gear units are designed for the 30 to 350 Nm (265 to 3100 lb-in) torque classes. They were designed to combine the greatest possible flexibility and cost-efficiency because not every application requires high-performance components. They provide a basis for diverse, dynamic and cost-optimized drive solutions.
Features
Compact, lightweight design
Highest permitted torques and overhung loads
High efficiency levels
Highest level of reliability, availability and durability
Adaptor is eliminated, which cuts costs
Available versions
PSC = B5 output, smooth output shaft
PSKC = B5 output, with keyway
PSCZ = B14, output, smooth output shaft
PSKCZ = B14 output, with keyway
Technical data
Size
Torque class [Nm] (lb-in)
Reduction ratios
1-stage [i]1
2-stage [i] 2
220
30
3 / 5 / 7 / 10
15 / 21 / 25 / 30 / 35 / 49 / 50 / 70 / 100
320
65
520
160
620
320 (2830)
5 / 7 / 10
25 / 35 / 49 / 50 / 70 / 100
1) Max. circumferential backlash: 10′ for all versions
2) Max. circumferential backlash: 15′ for all versions