SIMOVERT MASTERDRIVES Vector Control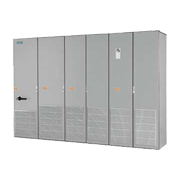 Active marketing of SIMOVERT MASTERDRIVES has been discontinued. The converter series SINAMICS S und SINAMIS G are available as successor products.
General Performance converter SINAMICS G
High Performance converter SINAMICS S
When continuous processes – at ratings of up to 6,000 kW-place high demands on the automation and drive systems, then you are making the right choice with the worldwide successful SIMOVERT MASTERDRIVES Vector Control frequency converters.
Our SIMOVERT MASTERDRIVES family of drives in theCompact PLUS design is admirably suited to tackle all applications requiring the highest power rating in the smallest space. This drive system has now been expanded with inverters (DC-AC units) up to 37 kW (50 HP).
Features
Low engineering costs – resulting from the Drive-ES Engineering Tool which is uniform on all levels anda single control, parameter and operating concept.
Universal usability – achieved by perfect adaptation to Totally Integrated Automation andby controlling all three-phase asynchronous motors (up to 690 V)
High flexibility and precision – through modular, plug-in option cards andthrough an Active Front End for clean networks