Sinamics G110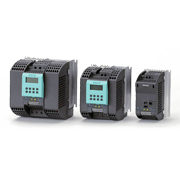 SINAMICS G110 is a frequency inverter with basic functions for a variety of industrial variable-speed drive applications. The particularly compact SINAMICS G110 inverter operates with voltage frequency control on single-phase supplies (200 V to 240 V). It is the ideal low-cost frequency inverter solution for the lower power range of the SINAMICS family.
Benefits
Easy wiring – by using user-friendly connection terminals as for contactor and a ready to connect presetting
Uncomplicated engineering und parameterizing – with SIZER und STARTER tools and with the optional Basic Operator Panel (BOP)
Quick series comissioning – time saving copying of parameters with the Basic Operator Panel
| | |
| --- | --- |
| Voltage and power ranges | 1AC 200 – 240 V, ± 10%, 0.12 kW – 3 kW |
| Types of control | linear V/f characteristic (with programmable voltage boost); quadratic V/f-characteristic; multipoint characteristic (programmable V/f characteristic |
Typical areas of application
SINAMICS G110 is especially suited for use with pumps and fans, or as a drive in various industrial sectors, such as the food, textile and packaging industries. as well as for conveyor systems, factory gate and garage door drives, and as a universal drive for moving billboards and fitness equipment.