Chemstar motor Ex e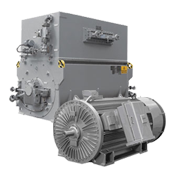 The motors in the "increased safety" version offer a high degree of explosion protection but at the same time have a low weight and complexity. The copper bar rotors used as standard allow starting and operating parameters to be optimized for each and every specific application. The steel version allows various bearing concepts, dimensions can be adapted and a wide range of instruments can be mounted. 3 versions are available: The Vario Ex e series is surface cooled with flat ribs combined with a defined inner cooling circuit with internal shaft-mounted fans. The J series Ex e from Loher have a modular cooling design featuring double flow inner cooling for a high power density and a homogeneous temperature distribution in the following versions: Mounted air-water heat exchanger: The heat exchangers are available in a wide range of versions with single and double pipe versions. Mounted air-air heat exchanger: The cooling pipes are manufactured out of galvanized steel; stainless steel versions are available for especially aggressive atmospheres.
Features
Corrosion protection using special paint finishes according to the manufacturer's standard or customer's specification.
The motors are available as special version for polar regions down to -40 °C (without pre-heating of the motor) or desert regions up to +60 °C.
Wide range of connection systems for large cable cross-sections, high short-circuit strength or phase-segregated version.
Optimized starting and operating parameters and high efficiency by using copper bar rotors as standard.
Customer benefits
Complies with almost all of the user requirements and specifications (no deviation philosophy)
Engineered based on international standards (ATEX, GOST-R, Rostechnadzor certified)
High level of acceptance in the various sectors. For instance, Shell and DOW recommend these motors
Complete project documentation guarantees minimum planning costs
High degree of cost effectiveness and low operating costs as a result of the optimum electrical and mechanical values
High degree of variability and versatility using a welded steel enclosure (to adapt the dimensions, mounted components)
Up to 11 kV in IIC, pre-purging not necessary with proof according to risk assessment EN 60079-7 (rotor)
Typical areas of application