Simotion P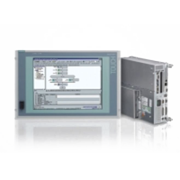 Open for multiple tasks.
Windows XP Professional is used as the operating system for SIMOTION P, the PC-based motion control system from Siemens. Our PC-based motion control system features real-time expansion for SIMOTION and is ready to run with no need for elaborate installation.
SIMOTION P With SIMOTION P, other PC applications can run in parallel with the SIMOTION machine applications. These include the SIMOTION engineering system, an HMI system, an operating application, a process data evaluation application, standard PC application, and others.
Several PC-based motion control panel versions are available for operating our innovative PC-based motion control system, and drives and peripherals can be connected as needed using PROFIBUS or PROFINET.
Benefits
Higher performance resulting from efficient PC processor architectures
Operational security based on industry-standard components, even under the toughest thermal and mechanical loads
Openness to standard applications based on the Windows operating system
Typical areas of application
Simotion D is recommended in any application where the following requirements for multi axis control apply.
Compact machines
Decentralized automation concepts, particularly for machines with a large number of axes
Modular machines – also as an addition to SIMOTION P or SIMOTION C
Time-critical applications for coupled axes