Low-voltage motors in non-explosive environments for standard and special applications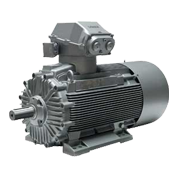 Based on its well-proven standard platforms, Loher precisely adapts its motors to the specific project and with the highest degree of flexibility – regarding the mechanical design, electrical design as well as special monitoring equipment and cooling types.
This results in quite individual drives, perfectly tailored to the particular plant or system, application or customer specifications.
All parameters of the gray cast iron motors have been optimized, i.e. the winding and rotor are optimally adapted to the environmental conditions.
Only then can the optimum values for efficiency and power factor be achieved (without derating). The result is reflected in the energy saving for the lowest load on the line supply.
These motors are available in the following versions – surface-cooled (t.e.f.c.) – water cooled and as braking motor up to approx. 500 kW.
In addition to the usual types of construction (where the shaft and flange is also in conformance with NEMA), special numbers of poles, pole-changing versions, high-speed designs as well as special cooling types are available – precisely to customer specifications.
Our strengths also include special voltages / special frequencies / special insulation / converter operation. The versions with special bearing designs for extremely high radial or axial (thrust) forces are especially worth noting.
Features
Surface cooled (t.e.f.c.) – options
Regreasing system from FS 160 – SPM nipple from FS 132 – stainless steel screws / bolts – larger connection system
Additional terminal box from FS 132 – anti-condensation heating from FS 132 – condensation water drain from FS 132
PTC thermistor as the only protection (TMS) up to and including FS 250
PTC thermistor as additional protection (TMS)
Can also be supplied for 60 Hz (adapted winding – increased power rating)
All motors with insulating material class H
Flange and shaft end can be designed and implemented in accordance with NEMA
Special versions e.g. for: Forced ventilation (for converter operation), mounted speed encoder, non-standard shaft end, backstop, special paint finishes, low temperatures down to -60 °C
High-speed motors up to 12,000 rpm
Water cooled – options
SPM nipple – stainless steel screws / bolts – larger connection system
PTC thermistor recommended as additional protection (TMS)
Special mechanical design according to customer specifications
All motors with insulating material class H
All motors are available with an electrical design according to "NEMA Standards Publication No MG1"
Flanged motors can be designed and implemented with flange and shaft end in accordance with NEMA
Braking motor – options
All brakes (single disk, spring-operated) are designed for temperature class F
Higher braking torques, also motors with other pole numbers can be supplied
Can also be supplied with mounted fan for forced cooling and/or speed encoder
The air gap can be more easily adjusted for extremely high levels of wear
Special mechanical design according to customer specifications
Can also be supplied for 60 Hz (adapted winding – increased power rating)
All motors with insulating material class H
All motors are available with an electrical design according to "NEMA Standards Publication No MG1"
Flanged motors can be designed and implemented with flange and shaft end in accordance with NEMA
Full flexibility: Special demands are implemented => adapted to special requirements
Only quality components are used => for an extremely high degree of operational reliability and long lifetime
Parameter-optimized motors (adapted winding versions and rotors) => for extremely high efficiencies with the best power factors
Water cooling => smaller outer dimensions, increased power ratings, low moment of inertia, low noise
Braking motors => suitable for switching operation at high switching frequencies, constant brake activation and deactivation times and a long lifetime
Pumps
Compressors
Fans
Extruders
Can be universally used as drive for these applications
Tunnel drilling machine
Hoisting gear
Travel gear
Cranes
Customer benefits
Full flexibility: Special demands are implemented => adapted to special requirements
Only quality components are used => for an extremely high degree of operational reliability and long lifetime
Parameter-optimized motors (adapted winding versions and rotors) => for extremely high efficiencies with the best power factors
Water cooling => smaller outer dimensions, increased power ratings, low moment of inertia, low noise
Braking motors => suitable for switching operation at high switching frequencies, constant brake activation and deactivation times and a long lifetime
Typical areas of application
Pumps
Compressors
Fans
Extruders
Can be universally used as drive for these applications
Tunnel drilling machine
Hoisting gear
Travel gear
Cranes