Servomotors 1FK7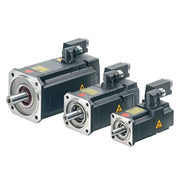 1FK7 motors are permanent magnet excited synchronous motors which are available in the versions Compact, High Dynamic and High Inertia.
The self-cooled motors are characterized by superior overload capability, ruggedness and compactness.
The connection via rotatable connectors and preassembled cables ensures a flexible, fast and safe connection to the converter.
1FK7 Compact (CT)
The universal motor for a wide range of applications.
Space-saving installation through very high power density.
Large range of motors in the shaft heights 20 to 100.
Preferred types with short delivery times are available.
1FK7 High Dynamic (HD)
The sprinter in the ramp-up time
Very high acceleration capability due to low rotor moment of inertia.
For highly dynamic applications with low load moment of inertia.
1FK7 High Inertia (HI)
Docile control behavior with superior load inertia due to the high intrinsic moment of inertia.
Reduced expenditure for controller optimization.
Particularly suited for machine tools for feed axis applications requiring superior resp. alternating load inertia..
1FK7 synchronous motors – overview of the product range
| 1FK7 | Static torque | Rated speed | Rated power |
| --- | --- | --- | --- |
| Comptact | 0,18 – 48 Nm | 2000-6000 U/min | 0,05 – 8,17 KW |
| High Dynamic | 1,3 – 28 Nm | 3000-6000 U/min | 0,57 – 3,77 KW |
| High Inertia | 3 – 20 Nm | 2000-6000 U/min | 0,9 – 3,1 KW |
1FK7 preferred types with a delivery time of 10 days
| Rated Speed | Rated torque | Static torque |
| --- | --- | --- |
| 6,000 rpm | 0,6 | 0,8 Nm | 0,85 | 1,15 Nm |
| 3,000 rpm | 2,6 | 4,7 | 7,9 Nm | 3 | 6,9 | 11 Nm |
| 2,000 rpm | 12,5 | 20,5 Nm | 16 | 27 Nm |
The following components are available with a delivery time of 10 days (further versions have a longer delivery time):
Single-Turn or Multiturn absolute encoder.
With resp. without holding brake.
Smooth shaft end or with fitted key and keyway
Typical areas of application
Machine tools (e.g. feed drives)
Robots and handling systems
Packaging, plastics and textile machines
Wood, glass, ceramics and stone processing machines
All types of auxiliary axes