Servomotors 1FT6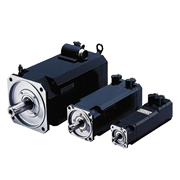 Universal motor for medium power precise applications with natural cooling, forced ventilation and water cooling.
The 1FT6 motors are permanent-magnet synchronous motors that have a very small torque ripple and an almost constant torque characteristic.
The motors are available in a wide range of powers.
Advantages
1FT6 synchronous motors – for all high-performance motion control applications
Triple overload (with natural cooling) over a large speed range.
Very high surface quality on the workpiece through high radial eccentricity and low torque ripple.
High degree of protection (up to IP68).
Technical Data
1FT6 synchronous motors – overview of the product range
Rated speed*:
1,500 – 6,000 rpm
Rated power*:
0.2 – 118 kW
Rated torque*:
0.4 – 300 Nm
Typical areas of application
High-performance machine tools (e.g. fine milling, for very high turning and grinding quality).
Production machines with high demands on dynamic response, precision and flexibility (e.g. injection molding machines, printing machines, packaging machines).