1PH7 Servomotors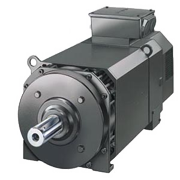 The 1PH7 motors are induction motors with compact dimensions. The motors have a high power density at low construction volume. The 1PH7 motors are available in a broad power, speed and option range.
The motors have excellent smooth-running and vibration properties and a high resistance to transverse forces.
Advantages
1PH7 induction motors – the compact motors with high degree of protection
Require very little space.
High resistance to transverse forces.
Low maintenance costs.
Technical Data
1PH7 induction motors – overview of the product range
Rated speed*:
400 – 2,900 rpm
Rated power*:
3.7 – 385 kW
Rated torque*:
22 – 2,480 Nm
Typical areas of application
Main spindle drive for machine tools.
Production machines (e.g. hoist drives, high bay racking systems, printing machines, wire-drawing machines, extruders, winding applications, etc.).