1PL6 servomotors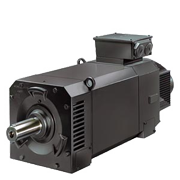 The 1PL6 motors are compact induction motors that have a broad power, speed and option range.
They also satisfy high demands on radial eccentricity, resistance to transverse forces and speed setting range.
The 1PL6 motors are optimized for operation on production machines.
Advantages
1PL6 induction motors – the powerful motors for machines with very high power density
Require very little space.
Low maintenance costs.
High resistance to transverse forces.
Technical Data
1PL6 servomotors – overview of the product range
Rated speed*:
400 – 2,900 rpm
Rated power*:
20.5 – 630 kW
Rated torque*:
370 – 3.600 Nm
Typical areas of application
Production machines (e.g. hoist drives, high bay racking systems, extruders, winding applications, etc.).
Ideal replacement for DC machines during a retrofit.