Electric Motors 1LE1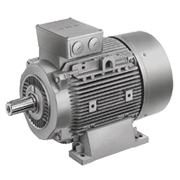 Three-phase, low-voltage, asynchronous squirrel-cage motors with an aluminum frame.
The three-phase asynchronous motors are designed to drive industrial devices such as fans, pumps, machine tools, presses, etc.
They can be used in a mild climate. Unusual climatic conditions require motors with special manufacturing. Modified motors and special-type motors have been derived from the low-voltage asynchronous motors with a short-circuit armature to serve a wider range of industrial applications and to find more applications in the electric drives of working machines.
Technical Data
| | |
| --- | --- |
| Parameter | 1LE1 Electric Motor |
| Size: | 100-160 |
| Output range: | 0,75-22kW |
| Number of poles: | 2,4,6,8 |
| Rated voltage up to 3 kW: | 230VD / 400VY, 50Hz // 460VY, 60Hz |
| Rated voltage above 3kW: | 400VD / 690VY, 50Hz // 460VD, 60Hz |
| Frequency: | 50 / 60 Hz |
| Coverage: | IP 55 |
| Shape: | IM B3, IM B5, IM B35 |
| Frame: | Aluminium |
Properties
Ambient temperature: -30°C to +40°C
Insulation: class F
Altitude: up to 1000 m
Permanent load: S1
Standard paint: RAL 7030