SIMOTICS HV Series H-compact PLUS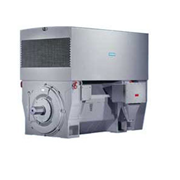 Highest power rating, reliability, efficiency and modular cooling system: This distinguishes the three-phase high-voltage motors of the SIMOTICS HV Series H-compact PLUS.
These motors are available in shaft heights 450, 500, 560 mm with a gray cast iron enclosure, as well as 630 and 710 mm with a steel enclosure in degree of protection IP55 or IP23 – air or water cooled.
The insulation and bearing system guarantees the highest degree of reliability.
The MICALASTIC insulation system with VPI impregnation offers high switching and reversing strength and has proven itself worldwide even under the toughest of application conditions: In extreme cold, heat, humid and aggressive environments.
The lifecycle costs are extremely important – and these make the SIMOTICS HV Series H-compact PLUS motor so attractive.
Technical Data
Parameter
Electric Motors 1LG4, 1LG6
Water-cooled motors:
1RN4, 1RN6
Air-cooled motors:
1RQ4, 1RQ6
Open-circuit ventilated motors:
1RA4, 1RP6, 1RA6
Shaft heights:
450, 500, 560, 630, 710 mm
Power range:
1000 to 11700 kW
No. of poles:
2 – 12 poles
Rated voltages:
3 to 13.8 kV
Drive converters:
SINAMICS GM/SM 150, ROBICON Perfect Harmony
Degree of protection:
IP55 (1RN4, 1RN6, 1RQ4, 1RQ6)
IP23, WP II (1RA4, 1RP6, 1RA6)
Cooling type:
IC 01 (1RA4, 1RP6, 1RA6)
IC 611, IC 616 (1RQ4, 1RQ6)
IC 81 W , IC 86 W (1RN4, 1RN6)
Type of construction:
IM B3 (IM 1001), IM V1 (IM 3011)
Enclosure:
Up to shaft height 560 mm – gray cast iron enclosure
Shaft heights 630 mm and 710 mm – steel enclosure
Bearings:
Roller bearings, sleeve bearings
Regulations/Standards:
IEC, EN
NEMA, API
Specifications, e.g. shipbuilding, oil & gas sector
Explosion protection:
Ex nA II and Ex pe II (1RN4, 1RN6,1RQ4, 1RQ6)

Brief overview
Features
| Feature | Customer benefits |
| --- | --- |
| Optimized for maximum compactness | High power with low envelope dimensions and weight |
| High efficiency and power factor | Low power costs |
| MICALASTIC high-voltage insulation using VPI technology | High degree of reliability and high service lifetime |
| Extensive experience and know-how regarding indusry sector requirements and their implementation | Sector regulations and specifications can be complied with e.g. for marine (ship classification societies), oil & gas (API) |
| 690 V version for connection to a drive converter up to the highest power ratings | Favorably-priced low-voltage technology for operation with a drive converter available |
| High-speed versions available with aspeed control range up to 4500 rpm | In many cases a gearbox can be eliminated |
| Low noise level | High customer requirements and requirements of safety at work legislation are fulfilled |