Helical Gearmotor R Series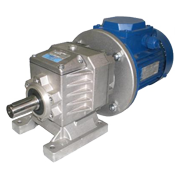 More efficiency in every situation.
In six single-stage and fourteen two-stage and three-stage sizes, the helical gearmotors by SEW-EURODRIVE ensure an optimum ratio between power and space requirements.
Features
High torque density
Long service life
R37 … R167 Reduced backlash option
RM series, specially designed for agitating applications
The tried and tested modular concept and our strict quality criteria allow SEW-EURODRIVE to provide a diverse range of torques and reduction ratios with incomparably finely tuned gradings. With this exceptional diversity, SEW-EURODRIVE sets new standards in the field of drive engineering.
Available version
Single-stage or multi-stage
Foot-mounted or flange-mounted
Foot-mounted and flange-mounted
Flange-mounted with extended bearing hub
Technical data
Helical gear unit versions
| | | |
| --- | --- | --- |
| Gear unit reduction ratio | [i] | 4.29 to 289.74 |
| Multi-stage gear unit reduction ratio | [i] | 134 to 27001 |
| Output torque | [Nm] ([in-lb]) | 270 to 18000 (2380 to 159300) |
| Motor power range | [kW] ([hp]) | 0.12 to 160 (0.16 to 215) |
Single-stage
Size
57
67
77
87
97
107
RX..
Foot-mounted
RX57
RX67
RX77
RX87
RX97
RX107
RXF..
Flange-mounted
RXF57
RXF67
RXF77
RXF87
RXF97
RXF107
Multi-stage
Size
07
17
27
37
47
57
67
R..
Foot-mounted
R07
R17
R27
R37
R47
R57
R67
R..F
Foot-mounted and flange-mounted
R07F
R17F
R27F
R37F
R47F
R57F
R67F
RF..
Flange-mounted
RF07
RF17
RF27
RF37
RF47
RF57
RF67
RM..
Flange-mounted with extended bearing hub
RM07
RM17
RM27
RM37
RM47
RM57
RM67
Multi-stage
Size
77
87
97
107
137
147
167
R..
Foot-mounted
R77
R87
R97
R107
R137
R147
R167
R..F
Foot-mounted and flange-mounted
R77F
R87F
R97F
R107F
R137F
R147F
R167F
RF..
Flange-mounted
RF77
RF87
RF97
RF107
RF137
RF147
RF167
RM..
Flange-mounted with extended bearing hub
RM77
RM87
RM97
RM107
RM137
RM147
RM167