Inverter Drives 8400 TopLine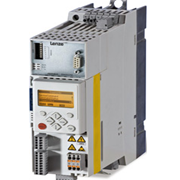 Easily achieve high dynamic performance and precision.
Inverter for controlled, dynamic motion.
Output current: 1.3 to 89 A (0.37 to 45 kW).
Particularly suitable for handling and positioning systems as well astravelling drives and hoist drives used in a wide variety of application areas. Also the ideal choice for synchronous drives, e.g. in continuous material processing applications.
Advantages
Connections: start/stop, analog inputs/outputs (2/2), freely programmable digital inputs/outputs (7/4)
Resolver and multi-encoder input
Communication: CANopen on board , EtherCAT , EtherNet/IP,POWERLINKPROFIBUS, PROFINET
Also supports synchronous motors
Axis bus for electrical shafts
Integrated brake management
"VFC eco" energy-saving function
STO safety function