Inverter Drives Lenze TML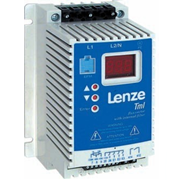 Despite their compact dimensions, Lenze TML and TMD frequency inverters truly are multi-talented and ready to take on any challenge. Operation couldn't be easier. Commissioning can be completed using just the three face mounted buttons. The EPM parameterisation procedure really is ahead of its time. The pluggable memory chip on the front panel provides safe storage for all drive data.
These Lenze frequency inverters also score top marks in terms of power. The single-phase Lenze TML drives support operation between 0.25 and 2.2 kW and the three-phase Lenze TMD Inverters between 0.37 and 7.5 kW. Lenze TMD variants supporting other voltage supplies are available on request. Lenze TML and TMD drives have been designed for simple applications. A clear concept and fast commissioning save time and money. Both frequency inverters come complete with an extensive range of options.
The EPM (Electronic Programmable Module) is a pluggable memory chip which provides safe storage for all drive data. Programming is either performed on the inverter directly or offline using hand-held EPM programmer, so you always have access to your configuration data via either method. The EPM plugs into the front panel of the drive. Existing configurations can be used, copied and edited as often as required and in just a few seconds simply by plugging in a different module. This interchangeability extends right across the frequency inverters SMD, TML/TMD ranges and Servo Inverters 94 SimpleServo/940 PositionServo.
In many plants and machines, the space available for control cabinets is restricted. In addition, it is often an advantage to have the drive installed on the machine and tested before the machine is shipped. This is where decentralised drive technology comes in.
Options
8200 motec frequency inverter (0.25 – 7.5 kW) – Robust frequency inverter available with high IP65 protection.
Inverter Drives 8400 motec (0.37 – 1.5 kW) – The new decentralised motor inverter stands out due to its compact size and simple commissioning.
Inverter Drives 8400 protec (0.75 – 4 kW) – The new decentralised, wall-mounted unit with high IP65 protection including large display and keypad.
Servo Drives 930K fluxxtorque (0.12 – 0.44 kW) – This very precise decentralised servo drive can be mounted directly on the machine.