Liquicap M FMI51, FMI52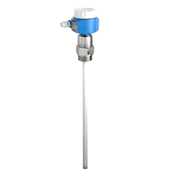 The Liquicap M compact transmitter is used for the continuous level measurement of liquids. Thanks to its robust and tried-and-tested construction (self-sealing cone), the probe can be used both in vacuums and in overpressure up to 100 bar. The sealing and insulation materials used allow operating temperatures of –80 °C to +200 °C in the medium container.
The measurement is independent of the dielectric constant (DK) as of a liquid conductivity of 100 μS/cm. In this way, various liquids can be measured without the need for recalibration.
Used in conjunction with Fieldgate (remote measured value interrogation using Internet technology), Liquicap M provides an ideal solution for inventorying materials and optimizing logistics (inventory control).
Features
No calibration necessary for media with a conductivity
of 100 μS/cm and higher. The probes are calibrated to
the ordered probe length on leaving the factory (0 % to
100 %). This makes easy and fast commissioning
possible.
Menu-guided local configuration via plain text display
(optional)
Universal application thanks to wide range of
certificates and approvals
Use also in safety systems requiring functional safety to
SIL2 in accordance with IEC 61508
Material in contact with the process made of
corrosion-resistant material and FDA-listed materials
for wetted parts
Two-stage overvoltage protection against discharge
from the container (gas discharger + protective diodes)
Electronics can be switched for media forming buildup
Short measured value reaction time
No need for recalibration after replacing electronics
Automatic monitoring of electronics
Monitors damage to insulation and rod breaking or
rope tearing
Suitable for interface measurement