Liquiphant M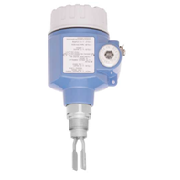 Point level switch for all liquids.
Suitable for use in hazardous areas, food and pharmaceuticals.
Features
Use in safety system requiring functional safety to SIL2/SIL3 in accordance with IEC 61508/IEC 61511-1
Large number of process connections to choose from: universal usage
Wide variety of electronics, e.g. NAMUR, relay, thyristor, PFM signal output: the right connection for every process control system
PROFIBUS PA protocol: for commissioning and maintenance
No calibration: quick, low-cost start-up
No mechanically moving parts: no maintenance, no wear, long operating life
Monitoring of fork for damage: guaranteed function
FDA approved materials (PFA Edlon)
Field of application
The Liquiphant M is a point level switch for use in all liquids.
for process temperatures of -50 °C to 150 °C
for pressures up to 100 bar
for viscosity up to 10000 mm2/s
for densities 0.5 g/cm3 or 0.7 g/cm3 other settings available on request
foam detection on request
The function is not affected by flow, turbulence, bubbles, foam, vibration, bulk solids content or build-up. The Liquiphant is thus the ideal substitute for float switches.
FTL51H: With polished tuning fork and easy-to-clean process connections and housings for food and pharmaceutical applications.
High corrosion-resistant AlloyC4 (2.4610) is available for the fork and process connections for applications in very aggressive liquids. EEx ia, EEx de and EEx d protection enable it to be used in hazardous areas.