Minicap FTC262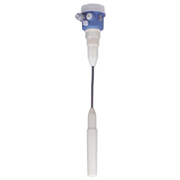 Capacitive point level detection Compact point level switch with active build-up compensation; No calibration necessary Version available for dust explosion areas.
The Minicap comes factory calibrated. Sensitivity adjustments can be made in the field. To ensure safe operation, the Minicap system must be properly grounded in a metal or reinforced concrete vessel. For vessels made of non–conducting material, the ground wire must be connected to an earth ground near the vessel. Commercially available installation cable can be used for the connections.
Features
Complete unit consisting of the probe and electronic insert:
– simple mounting
– no calibration on start-up
Active build-up compensation
– accurate switch point even with heavy build-up on the probe
– high operational safety
Mechanically rugged
– no wearing parts
– long operating life
– no maintenance
The rope probe of the Minicap FTC262 can be shortened
– optimum matching to the measuring point in the silo
– less stocks required
Application example
Minicap is designed for point level detection of light bulk solids, with a grain size up to max. 30 mm and a dielectric constant εr ≥ 1.6, e.g. grain products, flour, milk powder, animal feed, cement, chalk or gypsum.
Versions
Minicap FTC262: with max. 6 m rope probe; for bulk solids
Relay output (potential-free change-over contact /SPDT) with AC or DC power
PNP output with three-wire DC power