SIMOTION C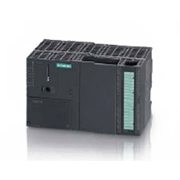 SIMOTION C is a Motion Controller in S7-300 design. In addition to already integrated interfaces, this Controller can be extended to include SIMATIC S7-300 I/O modules.
Two versions of the Motion Controller are available: SIMOTION C240 and SIMOTION C240 PN.
These two versions have the same PLC and Motion Control performance. They are, however, equipped with different interfaces. The C240 comprises four interfaces for analog, stepper resp. hydraulic drives onboard. The C240 PN is equipped with a PROFINETinterface including 3 ports. In addition, both controllers are equipped with several digital inputs and outputs as well as two PROFIBUS interfaces including PROFIdrive and an Industrial Ethernet interface for communication.
Description
A graded CPU range with a wide performance range is available for configuring the controller.
The product range comprises 7 standard CPUs,
7 compact CPUs, 5 fail-safe CPUs and 3 technology CPUs.
The CPUs are available from a width of only 40 mm
SIMATIC S7-300 is within Totally Integrated Automation the most sold Controller.
Benefits
Flexible use
Through utilization of the SIMATIC S7 range of modules and
Therefore optimum adaptation to the automation task
Universal drive link
For servo drives (digital and analog connection)
For stepper drives or
For hydraulic drives
Easy to use
Through user-friendly operation
Uncomplicated, fanless construction
Typical areas of application
Due to its modular design, the C230-2 is extremely flexible and can be used to satisfy many requirements, in particular:
Highest level of freedom for drive selection (e.g. for retrofit or hydraulic applications)
Extremely broad range of process signals