SIMOVERT MASTERDRIVES Motion-Control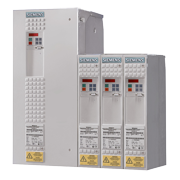 Active marketing of SIMOVERT MASTERDRIVES has been discontinued. The converter series SINAMICS S und SINAMIS G are available as successor products.
General Performance converter SINAMICS G
High Performance converter SINAMICS S
A new innovation has extended the technological function scope of SIMOVERT MASTERDRIVES AC drive converters. This well-proven series is now even more versatile and flexible: SIMOVERT MASTERDRIVES is now supplemented by the Motion Control (MC) version and the units have been provided with an even higher level of functionality and the output range has been extended downwards.
Power package for the smallest space
Our SIMOVERT MASTERDRIVES family of drives in theCompact PLUS design is admirably suited to tackle all applications requiring the highest power rating in the smallest space. This drive system has now been expanded with inverters (DC-AC units) up to 37 kW (50 HP).
The new MC unit version (Motion Control; refer to the Fig.) is harmoniously integrated in the unified overall concept of the SIMOVERT MASTERDRIVES AC drive converters. It fulfills users' requirements for an even higher dynamic performance and accuracy of variable-speed drives at an unbeatable price.