Soliphant M – FTM50, FTM51, FTM52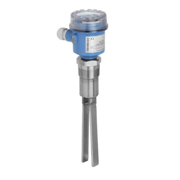 The vibration limit switches for bulk solids of Endress+Hauser have conquered a firm position in process automation as universal, robust and reliable instruments since 1967. 800,000 measuring points world-wide confirm our competence and experience as inventors of this measuring principle. In Soliphant M, Endress+Hauser now introduces its new generation of vibration limit switches.
The modular design of Soliphant M permits the instrument to be adapted to the respective application. From the variety of electronic interfaces, sensor designs and housings through to process connections and certificates – Soliphant M provides the ideal solution. The new short fork geometry now facilitates Soliphant M applications in small tanks.
Numerous settings on the intrinsically safe electronic inserts represent another new feature: Sensitivity adjustment, switching delay, diagnosis of build-up and abrasion. Soliphant M is available as a compact version (FTM50), with tube extension (FTM51) and with rope extension (FTM52). Its measuring range extends up to 20 m for the rope version and process temperatures cover from -50 °C to 150 °C (rope extension only -40 to +80 °C). Soliphant M was developed in accordance with the international standard for functional safety, IEC61508, and complies with SIL2 requirements for overspill protection.
Soliphant M is used in fine-grained or powdery media with a density starting at 10 g/l (short fork starting at 50 g/l). Apart from previous applications, Soliphant M can now also enter other industries. The reliable detection of bulk solids under water, i.e. Soliphant M does not switch when in contact with water but only with sand or sludge, permits applications in the waste water industry, e.g. in screen control. In addition, the new electronic inserts for NAMUR and 8/16 mA generate new opportunities.
The separate housing provides ideal preconditions for charging hose applications and those with high temperatures. A housing of stainless steel is available for hygiene applications.
The convincing technology and the extensive equipment of Soliphant M provide an optimum setting for a successful succession of the previous Soliphant II line.